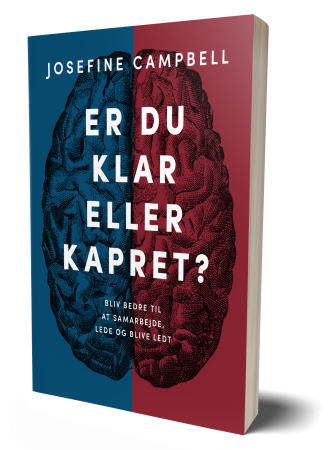 Reading the book can improve your performance sustainably by increasing your awareness on your mental stage of mind and your personal energy – when you lead and when you collaborate. It can help you being more agile and change efficient. The book is full of tangible tools backed by science and many relevant cases from the modern corporate work life, where change, agility, and performance is in focus.
From the book: Are you aware of when your brain is hijacked?
It happens to all of us. There are times when you are ready and can act like your best and most professional self, but sometimes you have done or said something other than what you would normally do or say.

Often, it happens when you are under pressure or when you have a very low energy level. Sometimes it's so bad that you'll regret it afterwards. It's in such situations that your brain has been hijacked. The worst thing about being hijacked is that you often are unconscious about it – until afterwards. It sneaks up on you without your notice. Because, once you are hijacked, you cannot use your entire brain.

You're not aware of your own behaviour. It makes it harder to collaborate, lead and be led. Especially, when you need to be innovative, when there is uncertainty and when there is change. 
"Josefine Campbell focuses in this book on the essence of being a good leader – how can we become a better version of ourselves? The combination of optimizing energy and mental presence is a powerful message that many leaders will be able to use to become a better version of themselves. At a turning-point in my life, I realized what it can do to be mentally clear. After that, it helped me handle my work with Pandora's IPO. Today I use it in my work in Carlsberg, but also privately. In my opinion, it is more a self-development book than a management book – because, you can use the tool in all aspects of life. "
Jesper Sabroe
Finance Vice President, Carlsberg Group
"I will definitely try to be more aware of avoiding (as much as possible) being hooked at work – as well as in my private life. Working with this state of mind will make a big difference to my business collaboration, but also to my private relationships."
Camilla Heideby
Executive Assistant to CEO and group management, Nordea A/S
"A situation that we can all get a little annoyed about is listening to people, who: "do-not-know-what-they-do–not-know". After reading Josefine Campbell's book: "Are you clear or hooked?", I became much wiser, and can now – with emphasis – talk about management & management problems. Even after 40 years of management experience, the book provides significant input!"
Flemming Lindeløv
Chairman of several boards e.g. PRIME OFFICE A/S etc.
"This is a book where the importance of context and the individual responsibility are perfectly linked. It is not either-or, it is both-and. This is typical for Campbell's work, which is characterized by always being adjusted and adapted to the organization or the person she is facing and with full focus on the task of developing or moving a person, a management team or an organization towards their goals. Adapted to the pace that suits the situation – but also with the opportunity to put the necessary positive pressure to make changes happen."
Henrik Busch
Chairman of several boards, CEO & Network Director
"The book was in many ways a good reminder for me, among other things. about the importance of being aware of your "energy–barometer" and prioritizing charging if your energy-level is low. The extra angle about being hooked is very relevant, and the book is written in a form that makes it easy to read. Hence, it's nice that you can feel the author's personality and presence throughout the book."
Helle Rasmussen
Director Carlsberg Group
"Josefine has, with her straight-forward approach and extensive experience from i.e. executive coaching, a solid experience base which she elegantly conveys to a very hands-on approach to get more energy in everyday life and dealing with stress better! I learned a lot by reading it!"
Mikkel Vindeløv
Group Director, Strategy & PMO, Hempel A/S
"It is a highly relevant topic. Because, management today is all about how to collaborate – not only internally in the company, but also externally with the customers. If you are hooked, you'll create a wall around yourself – and then it is difficult to cooperate. In my work as a turnaround CEO, it's crucial that I don't react automatically if some are aggressive or have a bad behavior. But, instead can be ready so I can hear what they are saying. The book provides in a direct and uncomplicated way many relevant perspectives and takes on how to be more clear – perspectives and takes you really can use."
Carsten Hoeck
CEO, Loxam
Josefine Campbell is a coach, author, former external lecturer at Copenhagen Business School, serial entrepreneur, and quadrable Danish Champion in Jui Jitsu.
She uses her experiences from martial arts in her work with talent and management development. As a coach for managers and directors of companies such as Novo Nordisk and Carlsberg, she helps professionals strengthen their performance.